GIWM and the University of Geneva were delighted to hold a diploma ceremony for the graduation of the first batch of students of the Professional Doctorate in Applied Finance.
The graduation was held in Shenzhen on March 27, 2021. H.E. Regazzoni, Ambassador of Switzerland to China, officiated the graduation ceremony and delivered the diploma to the 35 graduates on behalf of the University of Geneva.
Program directors, partners, distinguished guests and speakers attended the event to celebrate with the graduates and their family. Among others, we were honored to have the participation of Chairman Chen of Dunhe Foundation, Chairman Dr. Ma and President Yan of the China Global Philanthropy Institute (CGPI), University Rector Prof. Flückiger, Founder Prof. Gibson Brandon and Director Prof. Berrada of the Geneva Finance Research Institute at the University of Geneva, as well as Prof. Liao of the PBC School of Finance at Tsinghua University.
The event, well participated and moving, created a joyous atmosphere and a memorable day for the newly graduates. The diploma ceremony was a demonstration that the students have met and even exceeded the ambitious expectations for this new professional doctorate program. Many of the applied theses produced within the framework of this program are of exceptional quality and deserve to be published in peer-reviewed academic journals in finance.
Five graduates distinguished themselves both by the quality of their studies and the quality of the depth of their research in applied finance. They performances were recognized with outstanding achievement awards.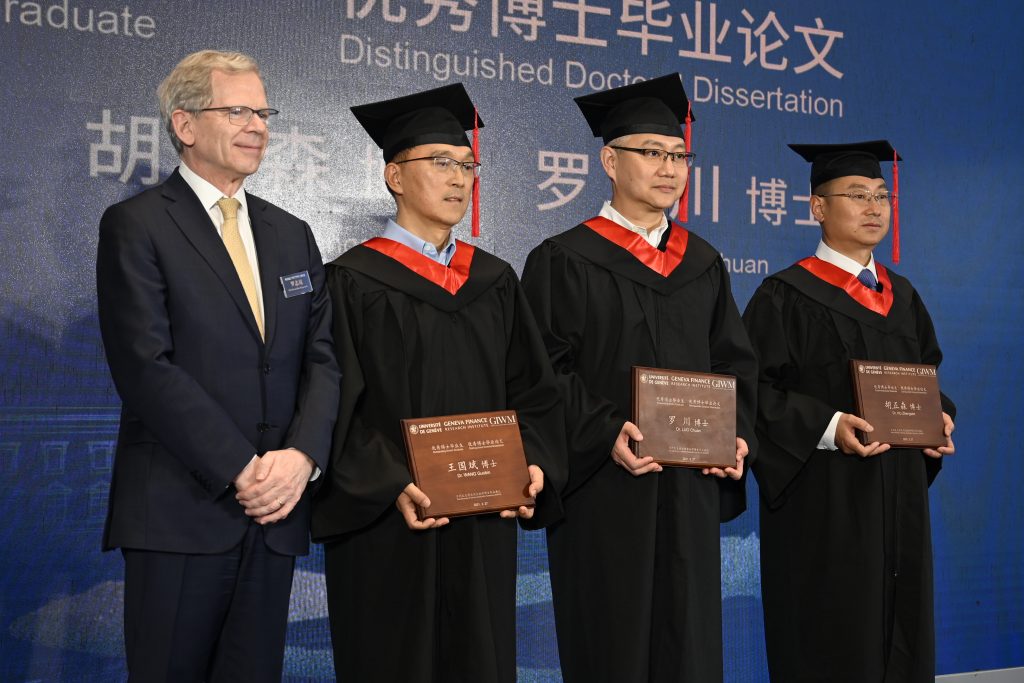 GIWM would like to take the opportunity to highlight the academic accomplishments of the graduate students, who have produced applied dissertation in the field of Wealth Management of excellent quality. We wish them continued success in their career and the opportunity to have an impact by applying their knowledge and skill once they graduate. Congratulations to them on their graduation!